VRaniML™ 3D Graphics Library
Read, write and render VRML filesr
VRaniML™ is a VRML 2.0 C++ class library for building 3D graphics applications. Most of the VRML 2.0 specification is supported including DEF/USE, PROTOs, ROUTEs and the VRML execution model.
Download the sample VRML browser and SDK for free. You may purchase the source code here:   VRaniML Library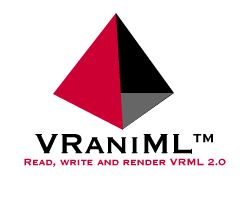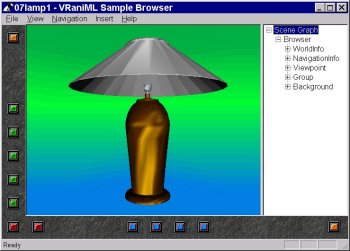 Progressive Mesh support allowing for progressive transmission of geometric nodes over the internet (with a suitable file server) and continuous level of detail creation and geomorphing
Boolean operations on geometric objects including union, intersection, difference, splitting plane
Persistent cache (including multiple directory searching) so files that are already present locally need not be fetched over the internet
Frame rate specification to allow for continuous (non-jerky) animation on a broad range of platforms
Renderer independence, supporting both OpenGL and D3D
Traverser technology (that is, the separation of traversals from the scene graph) allows for rapid extensions of library
Rapid geometric queries as a result of solid modeling underpinnings (i.e. What vertices border this face, What edges touch this vertex)
Basic Features
A rich set of underlying geometric and 3D graphics classes collection classes (arrays, lists, queues, stacks, maps, …)
Geometric classes (vector2, vector3, matrix, plane, ray, …
Utility classes (file, image, sound, …)
Time classes
Runtime typing support
All geometric objects are based on the Progressive Mesh data structure allowing for progressive transmission of VRML 2.0 files over the internet as well as continuous LOD Creation (support coming…)
Code that looks like MFC (but isn't) making for easy learning curve for MFC programmers
Every class has copy constructors, equals operators (operator=) and a Clone function making copying of an entire scene graph a one line operation
Scene graphs are serializable allowing for very compact binary storage
Supports VRML 2.0 execution model including TimeSensor, Interpolators and all other Sensors
Multimedia support for VRML 2.0 audio and sound nodes, movie textures, etc…
For all classes, each data member is protected and every interesting member function is virtual, making extension of the class library a snap.
Get a Free Trial
Please complete the following form to request a free 30-day evaluation hosted on our servers.
There is no commitment.
Further instructions for accessing the evaluation will be sent via email when you submit this form.